The movie "Run Appaloosa Run" not only inspired a fascination with Australian Shepherds but also for the Appaloosa. Having been raised around horses, no one breed had captured my heart until I came into contact with this breed. I soon purchased a beautiful solid black mare named Tar who I took with me on my move to the East coast. I was introduced to the Appaloosa Sport horse through my association with the Plum Run Hunt where I was kennel manager with 150 English Foxhounds under my care..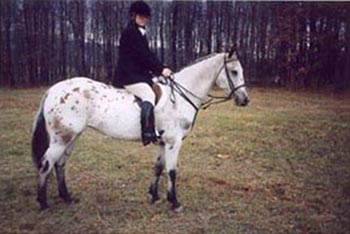 Wap Spot Vixen

Vixen" pictured on Opening Day with the Plum Run Hunt in Pennsylvania, Vixen always gave me the ride of my life. Now living the relaxed life of retirement.

It is with the heaviest of hearts that we announce that Vixen has left us for greener pastures. We will miss her.